Monday, October 04, 2004
New Gmail Features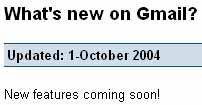 This morning, new features appeared in Gmail. The
official Gmail new features page
just says "New features coming soon!", presumable because they take a while to reach everybody, but I've got them, so here's what I've found:
Contacts list
: Moved to the main screen. New list of frequently used contacts
Drafts
: You know have the ability to save a draft
Atom
: You can now receive your new mail notifications in your RSS reader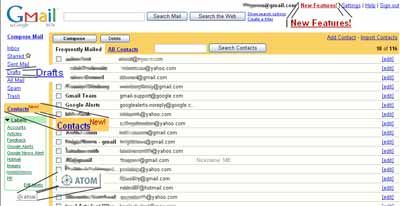 The Contacts update and Drafts are features users have been clamoring for for a while, while the Atom notifications are just a brilliant idea. Also, I'm not sure if this is a new feature, but I just noticed it for the first time, but you can set up automatic forwarding of your Gmail to another email inbox. That's everything I've noticed so far. If you see anything, let me know.
Comments:
Ariel IMd me (not something I'm used to, but it seems to be happening a lot lately), and here's a bit of what I told her:
Apparently, there are certain feeds that require authentication. The idea it that you need to have the right, and the password, to subscribe to that feed. For example, a feed for the employees of a company, or subscribers to a magazine. Some RSS readers support Atom's authentication method. Bloglines is one of those that does not.
Hopefully this will force Bloglines to add the feature, since Gmail is set to be enormously popular. My friend Keith wishes he had a proper Gmail notifier for his Mac. I was hoping to use it so I could access more than one Gmail account.
I encourage anyone coming here via a link to check out the rest of the site. I've answered many of your possible questions in other posts.
Post a Comment
<< Home