Wednesday, August 18, 2004
Google's Zeitgeist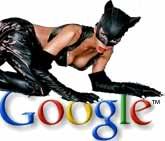 Ever wanted to know what people were searching for on Google?
Google's Zeitgeist
is a surprisingly deep resource for what others are searching, with 45 categories and nearly every country Google serves.Not surprisingly, this week's winners include
Doom 3
and
the Olympics
, but more interestingly is the week's biggest loser,
M. Night Shyamalan's poorly reviewed The Village
. At first, I was confused that
Catwoman
(movies) and
Chad Michael Murray
(men) are in the top 5 in their particular categories, but then I realized those were image searches, and I can understand pictures of Halle Berry in her Catwoman suit being a whole lot more popular than the movie itself.