Tuesday, September 14, 2004
AOL Launching It's "AOFROOGLe"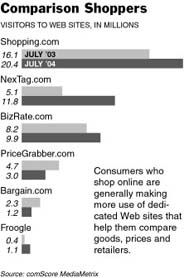 AOL will launch In-Store.com next Monday, a shopping comparison site designed to compete with
Google's Froogle
and
Yahoo Shopping
,
the New York Times reports
. Of course, AOL is really not competing with them, but with Shopping.com and NexTag.com, since the graphic at right shows that although Google and Yahoo have huge Internet presences, despite what we may believe, not everything they do becomes a huge overnight hit. This news comes just as the
beta of the new AOL.com surfaces
. Looks like AOL is slowly getting back in the game. Maybe one day they'll even have their own search engine.