Thursday, September 09, 2004
Finally, An Answer To "Is Google Broken?"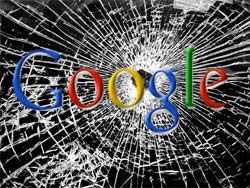 Google is not broken.
There has been much discussion on the subject of Google being broken. I've
brought it up before
,
I've discussed the experts involved
, we've even been
visited by noted Google critic Daniel Brandt
. Now, courtesy of the
forums at Search Engine Watch
and the good people at
Search Engine Roundtable
, we seem to have our answer.
The problem arose from the fact that the listing on Google's home page has read "Searching 4,285,199,774 web pages" for a little over a year now.
Brandt
, and later,
Anthony Frederico
, discovered that this was most likely related to the fact that Google uses a 4-byte unsigned long integer to mark its pages, which has a limit of 4,294,967,295 possibilities. So, the theory went, Google ran out of ID numbers for its pages, and could no longer index the whole web.
In fact, it seems, Google used one of the many workarounds available for 4-byte ULI. A search on the word "
the
" returns 5,800,000,000 results, more than the Google home page says. Google's home page reads the old number, because Google can't link that to its database, since it is using a workaround. As a result, the number is not real-time, but represents the last number before the update that pushed past the 4-byte ULI limit.
As "cariboo" explains in
this thread
:
This ID problem is an urban legend. A low skilled techie can solve it without any problems, and Google have a big team of PhD's. In fact, Google has a special "know how" about building huge "scalable" systems, with hundreds of machines working together... Gmail is their last demonstration of this know how.
And he says something that may explain why some sites are listed in Google but without page info. The gist: Google used to crawl the entire web, now it only crawls pages that are updated every so often. It keeps crawling the whole web with its old batch crawler, but it uses the new incremental crawler for most pages. It went live in July of 2003. If your site doesn't have page info (and this is my theory), it could be because the batch crawler caught you a while ago but the incremental crawler has no record. Are there any constantly updated sites that show this problem? Of course, it could be a different kind of bug.
There's your answer folks. Hopefully this will satisfy most people.
Comments:
5,760,000,000 results for "the" sept 10th
Will it be the same tommorow, as it was yesterday?
Is this number real? Google wont let anyone download enough results to check so it could be a made up number. Odd it has not changed.
Post a Comment
Links to this post:
<< Home