Sunday, September 26, 2004
Project D.U. Website Launching Soon, SBC To Pay Bloggers To Use Their RSS Feeds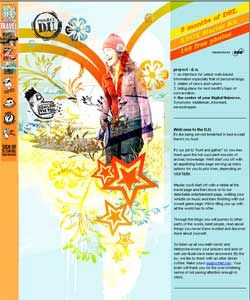 So, I finally get a scoop. A friend of mine who runs a blog is part of the new site, Project D.U. He says to me:
Hey - this is the website for it all http://projectdu.com/
It's basically a fancy RSS reader, aimed at the college market, with
links to blogs in 4 categories. It should be launching publicly soon.
A private beta will be next week we hope.
You mention my blog in connection to this at all, and there will be suffering.
No problem, man, I'm plenty grateful for the info.
The site is run by
SBC
, and will basically be paying bloggers, in the neighborhood of $100-$200 a month, to use their RSS feeds and create this all-purpose hot spot for the college market. As they say:
To completely understate and definitely oversimplify, Project D.U. is like a roundtable of experts with the latest information on a variety of subjects – including, but not limited to, which national news anchors sport a rug.
The site hasn't launched, but I'm told the beta could be any day now, and some "tool" is referenced to be available soon for download, probably the mass-market designed RSS reader.
I love the idea of bringing blogs more into the mainstream, but the success of a site like this depends entirely on whether or not it is cool. We'll have to wait and see. Either way, good luck, guys.
Comments:
I know, I posted about it on the sixth.
http://insidegoogle.blogspot.com/2004/10/project-du-launches.html
Post a Comment
Links to this post:
<< Home