Thursday, September 09, 2004
Yahoo Gets Friendly
Yahoo seems to be shedding its stodgy, faceless company image, as evidenced in
this latest post at Yahoo! Search blog
. Yahoo may not have Google's sense of humor, but it is developing a decent relationship with its customers, by posting about and fixing problems people bring to them.
Also, one of the problems they adressed was an "Error 999" some people got. Apparently they got it because they had MyDoom, or a similar worm. Wouldn't it be cool if major sites blocked users who were infected with viruses, returning an error message like this: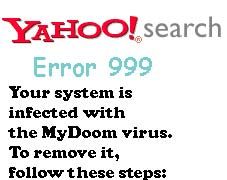 Now that would be a great public service.