Thursday, October 14, 2004
Digital Life: Day One Overview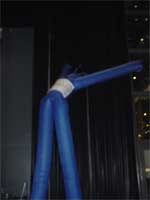 Whew! What a day. I managed to check out every booth, although I still have some stuff to check out for tomorrow, and Kurt Warner on Sunday (sorry, but he's even bigger than Google to me).
So, what did I learn today? Google is very secretive, but very friendly with their "no comments". Some companies have brand new, seemingly innovative products, but god knows if we'll ever see them. Lycos has the worst luck in the history of the world. Picasa needs a "Copy" button, but may very well be the most underrated product Google has. I need to swing earlier, or I'll never hit a fastball. AOL reps are very single-minded. And Orkut is a first name.
I'll be posting a lot about all the various meets and chats I had today throughout the next few days. Don't worry, I took a lot of notes and photos.