Sunday, October 03, 2004
Gmail Warns About Phishing In Email Text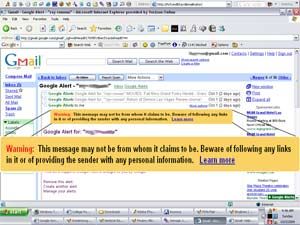 So, apparently Google does more than just filter spam, it also warns you about possible attempts at phishing. If Gmail thinks the email is trying to trick you, this message (shown in the screen shot) appears:
Warning:

This message may not be from whom it claims to be. Beware of following any links in it or of providing the sender with any personal information. Learn more
"Learn more" brings you to
this page
, which explains that Gmail's email scanning believes this is a possible phishing attempt, because the URL redirects you somewhere other than where it claims. You can't even click on the link, once Gmail decides this. The only way to find out where the offending link goes is to check out the email header, by clicking More Options > Show Original and reading through the code.
While this is a great idea, and one more companies should try, it is also incredibly stupid if it doesn't work, and this case is one where it didn't. The email was a Google Alert, and one from National Public Radio, no less. The reason Gmail thought it was a problem, as far as I can tell, is because it links to an audio file, not a web page. Good idea, poor execution, definetly needs some work.