Monday, October 25, 2004
Oh, How I Love Thee, Seattle Times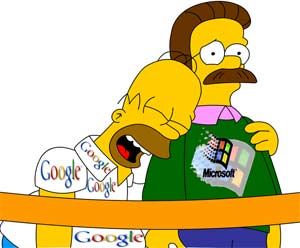 The Seattle Times reads InsideGoogle
:
Rival on turf

By CompiledTimes technology Staff


The rumor that Google was planning a development office in the Puget Sound area has been brewing for months now, and last week the company confirmed it would open an office in Kirkland next month.

The company wouldn't elaborate on those plans — it already has a sales office in Seattle — but the news was enough to get the search world buzzing about Google invading Microsoft's territory.

On his InsideGoogle Web site, blogger Nathan Weinberg posted a picture of "The Simpsons' " Homer Simpson, with Google's logo on his shirt, standing next to his neighbor, Ned Flanders, who wore Microsoft's logo (insidegoogle.blogspot.com/2004/10/google-and-microsoft-neighbors.html).

"I'm just trying to picture in my head a really bad sitcom where two neighbors who run opposing tech companies try to get along at home while waging war on the job," Weinberg wrote.

Not sure if these neighbors will be that friendly. Just as Homer has a tendency to make off with Flanders' power tools, we suspect Google may be permanently borrowing some of Microsoft's resources.
As Homer would say: Woo Hoo!
Comments:
haha, good stuff Nathan. its nice to know that even big media reads bloggers like us eh?
David (www.itchyhands.com)
Post a Comment
Links to this post:
<< Home