Sunday, October 03, 2004
Would You Like To Own Google Blogoscoped?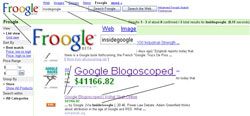 I
search for InsideGoogle
almost daily, making sure my pages are being indexed and seeing who has mentioned this site. Tonight, I
hit the Froogle tab
in Google, and I discovered that I could buy Google Blogoscoped for $41,166.82. Not a bad price, if I do say so myself. (And don't bother correcting me. I know its a bug, although I would like a theory as to how
this
was interpreted that way by Froogle).
Comments:
Probably has a snag with the date/time stamp. Trying to convert that to dinero. I am guessing that is a certain amount of minutes past a certain UNIX date (just guessing).
I stumbled on this a while back and posted it over at Search Engine Watch forums. Had to mention how their Moderators where worth $10 and regular members where only $1. =) That was pretty consistant too, and I am still at a loss as too why that is (maybe the rep stars has something to do with it).
But if you want a good way to see who is linking to you or an individual article, try Technorati or Bloglines. They both have search for that type of thing -- I monitor both our blogs at both places and the links are showing up on our references like a charm. (even blogs in Russia!) This is a poor-man's trackback (translation: trackback for Blogger)
Also try Feedburner to convert your Atom feed to RSS -- lots of goodies comes with it. One is their stat tracking which will show you approx. how many subscribers you have to the feed. That gets broken down by type of aggregator, bots, hits, click thrus, which articles got clicked on and tons more. Fantastic service with an almost instantaneous ping back too (good for letting the reader know instantly that you have updated).
I am going to be trying out HaloScan here shortly. They have Trackback service that will run on Blogger. Will let you know how that turns out.
Post a Comment
Links to this post:
<< Home