Wednesday, November 24, 2004
Gmail Deskbar Plugin
Netdroid has created a
plugin for the Google Deskbar that lets you check your Gmail
through it. You can also search your Inbox, drafts, or only unread messages. Looks cool, works very well. Now if I could only get a Gmail Notifier built into the Deskbar, I would be in heaven.
UPDATE
: I spoke to Netdroid again (and he mentions some of this in the comments) and you can expect future versions of the plugin to contain a notifier (yay!) and a compose feature. I'm thinking that if he shows you can build a notifier into the Deskbar, then I need someone to build plugins to replace all those little memory resident programs I use with Deskbar versions. Wouldn't a Bloglines notifier be cool? Or, if you are truly bold, try to integrate full programs into it, like instant messaging, other email services, or even Windows Media Player. Can you imagine not having to open any of those programs, and instead just using one centralized interface? I'm not saying all of that is possible, but wouldn't it be great to try?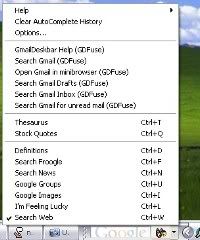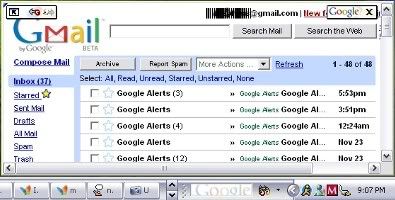 Comments:
The notifier is a good idea!
Right now I'm working on 0.3, which will feature the notifier (Based on the gmailagent api which I will compile into the same file :D)
Post a Comment
Links to this post:
<< Home