Wednesday, December 15, 2004
Google Says: Disappoint Your Relatives This Holiday Season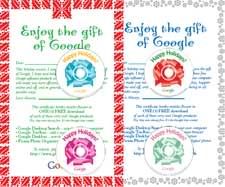 The Google Blog has some holiday gifts
. Problem is, they're the kind that'll get you dumped, fired, or just slapped for being an uncaring little so-and-so. Seriously.
Honey, I love you so much, I got you this free gift certificate from Google that entitles you to an already free download:

Enjoy the gift of Google


Dear _____________________
This holiday season, I would like to bestow on you the gift of Google. I hope and believe that downloading these free Google software products and installing them on your computer will make you more efficient at work, adept at play, happier online and off, and in general a better human being in all possible ways.

Love Always, ____________________


This certificate hereby entitles the bearer to
ONE (1) FREE download
of each of these very cool Google products:
(Yes, they were always free. It's the thought that counts.)




Google Desktop Search - search your own computer
Google Toolbar - add a search box to your browser
Google Deskbar - search from any application
Picasa Photo Organizer - find and share digital photos

To redeem, please visit this web page:
http://www.google.com/downloads

Honey? What's that you're muttering under your breath? Did you just say Brad would have gotten you a real present? No honey! Put down the tire iron!
Seriously, anyone who hands out Google Gift Certificates at the office Christmas party is going to look far worse than George Costanza handing out those "A Donation Has Been Made In Your Name" things. I challenge anyone to actually try to pull this off. I would be eminently impressed with the story, and I promise to console you when she dumps your sorry butt.
Comments:
Hi, Nathan - I have cited your post in my Weekly BlogScan, this week titled "Living with Disappointment." To view the citation or read comments, please join the following two lines into one URL:
http://blogcritics.org/archives/
2005/06/10/211021.php
Post a Comment
Links to this post:
<< Home