Wednesday, December 15, 2004
Yahoo Video Search Is Here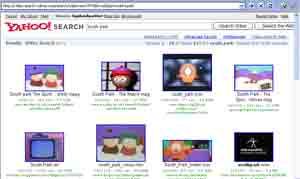 What is this?! We seem to get some brand new step forward several times a week. God, I love this industry.
Tonight,
Yahoo launches Video Search Beta
. Media providers can submit their videos to the engine through RSS feeds, and you get a powerful video search engine. If you search for something that isn't there, Yahoo even shows you the web search results to help you out. Yahoo shows a nice little thumbnail of whatever results it has. I've noticed .avi, .mov, .mpg, .wmv and .rm, so it is sompletely capable of handling all the major formats. You can use the advanced search page to limit your results by format, search by file size or duration (or both), or limit your searches to a domain. Because Yahoo Video relies on publishers for information, it's SafeSearch should work just fine; it should even think about implementing a ratings system.
The idea of all video content sites publishing RSS feeds makes me excited about prospects for using those feeds. You just know some guys are going to code apps that download the latest videos (video podcasting, off course).
Back on topic, good work Yahoo. We should be able to have dedicated engines for every type of content out there. There's no reason we shouldn't have video, audio, newspaper, radio station, library, whatever search engines. I'm very happy with this.
(via
John Battelle
, who is under embargo till tomorrow to deliver more news about it)
UPDATE
:
The Yahoo Search Blog has info
on the new engine. They explain that the RSS enclosure data is almost exactly like that for podcasting. Yahoo has come up with additional metadata to go in the feed, creating a set of "
Media RSS
" rules. The data contains ten attributes: the URL, file size, format, media player, player height and width, whether the video is full or a sample, bitrate, duration, and an indeterminate "isDefault" parameter. Expect every other company to use this data, meaning Yahoo can take credit for an industry standard. Expect other companies, like Google, to add more parameters to the standard, like publisher name, or even author, actors, genre, etc. This standard was developed with several partners:
In addition, we're working with several other companies and organizations to help refine these ideas. They include: AtomFilms, Creative Commons, Buzznet, Ourmedia, and Broadband Mechanics.
UPDATE
2:
Gary Price has more
Comments:
>>We seem to get some brand new step forward several times a week.
Haven't you heard of video search on ATW & AV?
I'm a major advocate of convergence. That means a new feature in Google is more important than that same thing in another smaller company. And market forces bear that out. Singingfish? Not likely to go anywhere? Google Audio Search (when it launches)? Likely to succeed. Simple market forces.
Post a Comment
Links to this post:
<< Home