Wednesday, October 06, 2004
Project D.U. Launches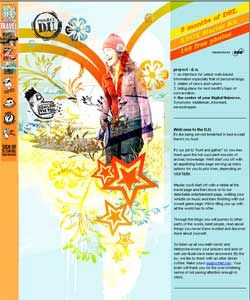 Project D.U.
, SBC's mass market RSS reader that
I mentioned a few weeks ago
, went public today. It comes preloaded with RSS feeds. It tries to go less for mega-popular blogs, and more to indie and "cool" stuff, so as to appeal to a younger audience, with sites like
Teaching The Indie Kids To Dance Again
and
Twelve Black Code Monkees
. But don't worry, it's still a full-service RSS reader and you can change and add all the feeds you want. I'm going to try out the Gmail Atom feed finally. SBC is trying to use this to push its high speed internet service.