Thursday, December 16, 2004
Overture Can't Be Happy With Geico Outcome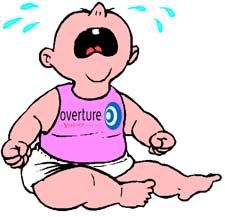 It's virtually a guarantee that Overture is eating crow today after
settling with Geico two weeks ago
, only to watch
Google win its case
against the insurance company. I'm predicting two things happening over there right now:
Every so often, an Overture exec asks, "Is there any way we can get that settlement cash back?"
Yahoo has begun the process of firing some lawyers, especially whoever advised them that settling was their only recourse.
Still, there is one bright side for Yahoo-owned Overture, as pointed out by
the Uofficial Google Weblog
. Since Google pays Yahoo licensing fees off of Overture patents, at least Yahoo will make some money off of Google's victory. Still, they made a decision, and in hindsight, it was the wrong one.